About Us
About Us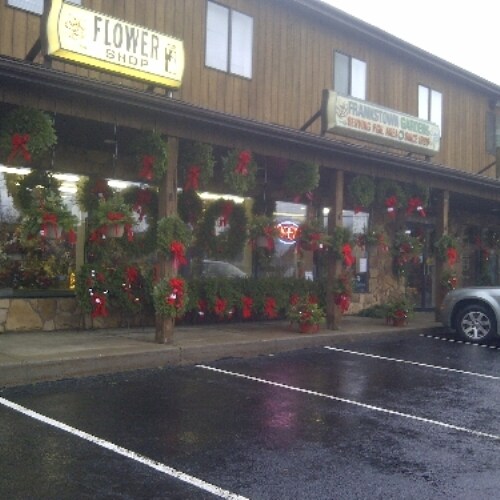 Frankstown Gardens
10158 Frankstown Rd.
Pittsburgh PA 15235

Our Family here at Frankstown Gardens Started doing business back in 1939. Our Grandparents Tony & Anna started this business with just a little greenhouse and a lot of hard work, Our Father Sam then took it just a little Further when he decided to add a Floral Shop to the business and he has never looked back since. In the summer of 1985 our business suffered a devastating fire that destroyed our Life's work, but without any hesitation we rebuilt and are still growing every year.

We would love the chance to serve you and your family. We accept all major Credit Cards and our work is 100% satisfaction Guarenteed.
Frankstown Gardens
10158 Frankstown Road
Pittsburgh,PA 15235
---
Store Hours:
Our shop is open from 8:00 a.m. to 5:00 p.m. Monday through Saturday, and 8:00 a.m. to 1:00 p.m. on Sundays. Summer Hours: Monday through Saturday from 8:00 a.m. to 5:00 p.m. and Sunday 8:00 a.m. to 1:00 p.m. To help assure on-time delivery during the busy holiday season, place your order at least one day prior to the following major holidays: Thanksgiving Day, Christmas Day, New Year's Day, Valentine's Day, Easter, Administrative Professionals Week, Mother's Day, Memorial Day, Father's Day, Independence Day and Labor Day. Our shop will always be closed on Christmas Day.
Payment Options
We accept the following payment methods:
Visa
MasterCard
Discover
American Express
Areas Served
Our shop serves All Pittsburgh Zip Codes and All U.s. Cities.
We also deliver to the following facilities
Aldrich Funeral Homes
Allegheny General Hospital
Angelus Convalescent Ctr Inc
Anthony E Perry Funeral Home
Anthony G Staab Funeral Home
Arden Courts
Asbury Heights
Asbury Place
Asbury Villas
Atria South Hills
Atrium I
Auba Senior Citizens Apts
Autumn Lane Assisted Living
Baldwin Health Ctr
Baldwin Towers
Ball Funeral Chapel, Inc
Baptist Homes Residence
Barnes Personal Care Home
Bartell's Personal Care Home
Bass Wolfson Pediatrics
Beatty Pointe Village
Beinhauer Family Funeral Home
Bellefield Dwellings
Betcher Jr Henry L Funeral Hom
Beverly Healthcare
Bey Goins Personal Care Home
Bey's Personal Care Home
Bickur Cholim Convalescent
Boron Funeral Home Inc
Bower Hill Three Apartments
Brady Memorial Home
Brinton Towers
Brusco-Napier Funeral Home Ltd
Burton L Hirsch Funeral Home
Calvin L. Sheffield Funeral Ho
Cambridge Square-Monroeville
Canterbury Place
Cardwell's Personal Care Home
Care Registry
Carson Retirement Residence
Cedars Of Monroeville
Cedarwood Personal Care Inc
Center for Integrative Med
Charles Morris Nursing & Rehab
Charles W Trenz Funeral Home
Children's Home Of Pittsburgh
Children's Hospital
Childrens Institute
Cieslak & Tatko Funeral Home
Cloverleaf Communities
Collier Personal Care Residenc
Collins Health Ctr
Coston Funeral Home
Covenant At South Hills
Crafton Plaza
Crafton Tower
Craig Medical Associates Upmc
Daniel T D'Alessandro Funeral
Devlin Funeral Home
Devonshire Of Mt Lebanon
Donahue III-St Leo's Manor
Douglas Plaza Apartments
Dugan's Residential Care
East Boro Apartments
East End Community Health Ctr
Ebenezer Baptist Custodial
Ebenezer Towers
Edward P Kanai Funeral Home
Elliott Heights
Elmer L Herman Funeral Home
Evergreen Assisted Living
Fairfax Apartments
Findlay C. Wylie Funeral Home
Forbes Center for Rehab
Forbes Nursing Ctr
Forbes Regional Hospital
Forward Housing
Frank F. DeBor Funeral Home
Franklin House Personal Care
Frederick L Hopewell
Freyvogel Slater Funeral
Friends Of Hospital Albert
Friendship Village-South Hills
Gary R Ritter Funeral Home
Gene H Corl Funeral Chapel Inc
George A Phillips Funeral Home
George A Warden Funeral Home
George W Douglas Funeral Home
Good Funeral & Cremation Svc
Grainger House
Greenway Park Apartments
Griffith Funeral Home, Inc.
Gwen Wise's Personal Care Home
H Samson Inc
H.P. Brandt Funeral Home, Inc
Hahn Funeral Home & Cremation
Harriet Tubman Guild
Hazelwood Towers
Healthsouth Harmarville Rehab
Healthsouth Rehabilitation Ctr
Healy-Hahn Funeral Home Inc
Healy-Hahn Funeral Home, Inc.
Heard Funeral Home, Inc.
Hearthstone Manor
Heartland Health Care Ctr
Henderson House Personal Care
Heritage-Shadyside
Hershberger-Stover Inc Funeral
Highland Park Ctr
Homewood House
House of Law
Hughes Funeral Home Inc
James C Longcrier Funeral Home
James J Barry Jr Funeral Home
Jefferson Memorial Cemetery, F
Jefferson Regional Medl Ctr
Jefferson Surgery Ctr
Jobe Funeral Home Inc
John A. Freyvogel Sons, Inc
John D O'Connor & Son Funeral
John F Murray Funeral Home Inc
John F Slater Funeral Home Inc
John J Gmiter Funeral Home
John J Kane Regional Ctr
John N Elachko Funeral Home
John Paul Plz
John T Connors Funeral Home
Johnson's Boarding Home
K Leroy Irvis Towers
Kane Regional Ctr Ross
Kelly Street Homewood North
Kindred Hospital Pittsburgh-
Koskey's Care Home
Lambeth Apartments
Laughlin Memorial Chapel Inc
Lawrence T Miller Funeral Home
Lee-Dorsey Funeral Home
Lemington Center
Linroy Personal Care Home
Little Sisters Of The Poor
Magee-Women's Hospital of UPMC
Malatak Personal Care Home
Manor Care Health Svc
Marian Manor
Maurice L Knee Ltd
Mc Donald Linn Funeral Home
Mc Farland Green Pcbh
McCabe Bros., Inc. Funeral Hom
Mercy Behavioral Health
Mercy Health Ctr
Merryheart Retirement
Metowers Inc
Metropolitan Cremation
Midtown Towers
Miller-Brady Funeral Home
Milton E Hamel Mortuary
Moone Manor
Mt Lebanon Manor Convalescent
Murray Towers Hi-Rise Mgmt Ofc
Noble Towers
Norbert Residential Care Fclty
O'Brien's Funeral Home
Oakland Infusion Ctr
Odell Robinson Jr Funeral Home
Olechowicz Funeral Home
Orion C. Pinkerton Funeral Hom
Overlook Green Assisted Living
Park Terrace Care Ctr
Parkside Manor
Penn Arbors Apartments
Perman Funeral Home & Crematio
Perrysville Plaza
Pittsburgh Specialty Ambltry
Plum Creek Acres
Positive Recovery Solutions
Pressley Street Hi-Rise Comm
Ralph Schugar Inc Funeral Home
Readshaw Funeral Home Inc
Realty Growth Corp
Reformed Presbyterian Home
Richard Sheffield Funeral Home
Ridgepointe Assisted Living
Riverview Manor
Robert J Corbet Apartments
Robert P Karish Funeral Home
Rose Valley Retirement Village
Rowland S Cooke Funeral Home
Samuel J Jones Funeral Home
Schellhaas Funeral Home & Crem
Schellhaas Funeral Home Inc
Schenley Gardens
Section 8 Government Bldg
Senior Support Svc Inc
Shadyside Nursing & Rehab Ctr
Shaler Oaks
Sidney Square Convalescent Ctr
Simons Funeral Home Inc
Sky Vue Terrace
Smith Rex T Funeral Home
South Atlantic Personal Care
Southwood Psychiatric Hospital
Soxman Funeral Homes
Speer Anthony Kaprive Funeral
Sperling Family Funeral Servic
Spriggs-Watson Funeral Home
Squirrel Hill Manor
St Ambrose Manor
St Augustine Plaza
St Clair Village Comm Mgmt
St Francis Medical Ctr
St James Deaconess Home
St Joseph Nursing & Healthcare
St Mary's Courtyard
St Paul Of The Cross Monastery
St Pius Residence
St. Clair Hospital
Steel City Financial Group Inc
Stephen M Brady Funeral Home
Stephen P Dolence Jr Funeral
Stephens Memorial Chapel
Stones Personal Care Home
Sunrise Assisted Living
Sunrise Of Monroeville
Sweetbriar Place
Swissvale Towers
Taylor's Personal Care Home
Teece House
The Childrens Institute
The Rapp Funeral Home, Inc.
Thomas J. Gmiter Funeral Home
Thomas L Nied Funeral Home Inc
Thomas P Kunsak Funeral Home
Timothy K Slater Funeral Servi
UPMC Health Systems
UPMC Mercy
UPMC Mercy Greentree
UPMC Mercy S. Side Outpatient
UPMC Passavant
UPMC Presbyterian
UPMC Presbyterian Cardio.
UPMC Shadyside
UPMC St. Margaret
UPMC/South Hills Health System
VA Pittsburgh Healthcare Systm
Villa De Marillac Nursing Home
Vincentian Home
Visiting Nurse Foundation
Walter J Zalewski Funeral Home
West Funeral Home Inc
West Park Court Inc
West Pen Allegheny Health
West Penn Hospital
White Memorial Chapel
Wightman Center For Nursing
Wilkins House
William Eckels Funeral Home
William F Conroy Funeral Home
William F Gross Funeral Home
William R Welsh Funeral Home
William S Moorehead Tower
William Slater II Funeral Serv
Winter Funeral Home
Wolfe Memorial Inc
Wood Tower
Woodhaven Care Ctr
Specialty Services
We specialize in the following services:
Large inventory of fresh flowers
Plants
European/dish gardens
Contemporary and traditional arrangements
Silk arrangements
Weddings
Funeral designs
Gourmet and fruit baskets
Gift baskets
Contact Information
If you have any questions or need more information call us directly at (800)783-3519. We're always here to serve you and make your flower-sending experience a pleasure.

Frankstown Gardens
10158 Frankstown Road
Pittsburgh, Pennsylvania 15235
Delivery Policy
A local delivery fee of $9.95 will be added to each order, for each address. (For deliveries outside our local delivery area, there will be a $7.95 wire charge.)

U.S. orders must be received before 12:00 noon in the recipient's time zone to assure same-day delivery. Orders received after that time will be delivered the following day.

We will do our best to accommodate deliveries at specific times of day, but we cannot guarantee it.

Delivery of orders to rural route addresses or cemeteries cannot be guaranteed.

We will be happy to accept your international orders if you call our shop directly. We are unable to accept international orders over the Internet.
Substitution Policy
Occasionally, substitutions may be necessary to create your bouquet due to the availability of certain flowers in various parts of the country. Care is taken to maintain the style, theme and color scheme of the arrangement, using flowers of equal value. Additionally, the substitution of certain keepsake items may be necessary due to increased demand, especially during major holidays. In single-flower arrangements, such as an all rose bouquet, or orchids, we will make every attempt to match the flower type, but may substitute with another color.